LEARN MORE ABOUT WFOT'S PRESIDENT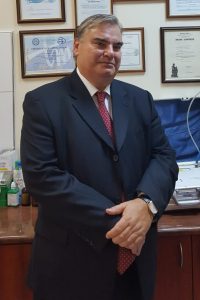 Dr. Stefan TIRON, is a graduate from the University of Medicine and Pharmacy, Faculty of Medicine, Bucharest (Romania). He obtained his Degree in Medicine in 1985 with high distinction. In 1994, he received Diploma of specialist in orthopaedics surgery and traumatology, Bucharest , and Diploma of Sport's Traumatology, University Pierre and Marie Curie, Faculty Pitie-Salpetriere (Prof. Rodineau)
In 2000 was Overspecialied in Sport's Traumatology and Orthopaedics – University Hospital of College of London
WFOT is currently headquartered in Brescia, Italy.
In 2008 he founded the "Romanian Scientific Society of Oxygen Ozone Therapy" . President since beginning.
From 2008 he founded the International Postgraduate Course of improvement in ozone therapy , ozone school who is organized with 3 University of Medicine and Pharmacy from Romania .
• Member of the Romanian College of Physicians
• Founding member of the SSROOT (Romanian Scientific Society of Oxygen Ozone Therapy ) President since 2008
• Founding member of the ISCO3 (The International Scientific Committee of Ozone Therapy)
EXPERIENCE IN MANAGEMENT FIELD:
• General Secretary of the Ministry of Health and Family,Romania
• Director of the Department for European Integration and Health Programmes, Ministry of Health,
• Counsellor, National Health Insurance House
• Representative of Romania at the European High Level Committee on Health
• Co-ordinator of the international donors in the field of public health